One of the unintended consequences of the COVID-19 pandemic is an increase in digitization. Businesses are forced to move online due to lockdowns, travel restrictions, and shop closures. Companies that won't immediately adapt to this shift will be left behind by their competitors.
Here at The i4Group, we continued our Agile Training Classes, Lean-Agile Transformation, and Cybersecurity consulting services, throughout the pandemic. We even expanded our classes to include Data Analytics and Cybersecurity training!
At The i4 Group, our core value is integrity — it is the "i" from our name, after all — we deliver high value transformation to our clients by guiding them to creative and innovative strategies. We specialize in the Lean-Agile methodology, and use that to improve business operations and IT processes.
Based in Dallas, Texas, we are an 8a-certified small minority business enterprise. Our diverse team of trainers and consultants have an 18-years average experience in the industry. Since 2012, we have been providing training on change management, leadership development, and professional coaching. We have coached thousands of professionals and delivered hundreds of classes throughout the world.
We recently received new reviews from Clutch. Headquartered in Washington, DC, Clutch is a leading B2B reviews and rating platform that connects businesses with the best-fit agencies they need to tackle their next big business challenge.
The first review was about our work with a multinational IT company. In order for them to streamline their processes, we conducted a value-stream mapping for their operations. We analyzed their system artifacts and Jira data to improve chokepoints.
We are happy to know that the client is satisfied with our work. They praised our knowledge of Scaled Agile Framework execution. Here's what they have to say:
"We have a high degree of respect for The i4 Group — they were able to massage the data and make some concrete recommendations." – Worldwide Business Manager, Multinational IT Company
For this engagement, the client gave us an overall five-star rating.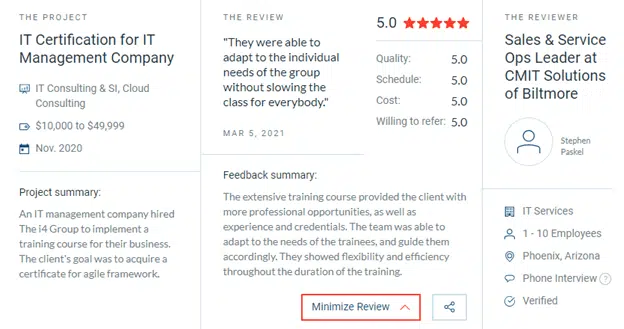 The second review was about our work with an IT management company. We helped them use the Scaled Agile Framework in their decisions and implementations. We provided them a certification course that ran over a couple of weekends, and helped them prepare and pass the test to get a certification.
With the SAFe certification, the client increased their credibility, and with that increased their closed deals. They appreciated our flexibility and efficiency as trainers. They said:
"They were able to adapt to the individual needs of the group without slowing the class for everybody. Not everybody is going to have the same learning style, and they were really adaptive." – Sales & Service Ops Leader at CMIT Solutions of Biltmore
For our work on this engagement, the client gave us an across-the-board five-star rating!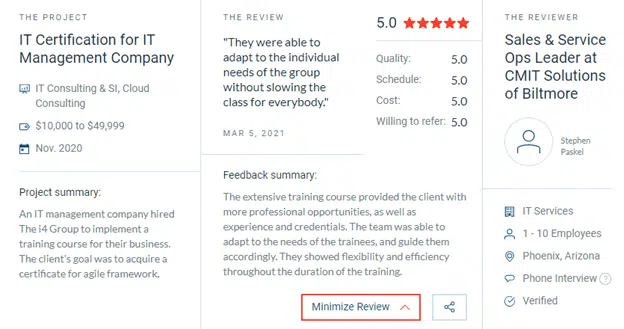 Lastly, we were listed as a leading company for IT services in Plano by The Manifest, Clutch's sister company. They are a B2B research company that organizes practical business wisdom to help entrepreneurs achieve their goals.
We are proud of the work we do, but at the same time, we feel humbled by the positive feedback we receive. This only motivates our team to work harder.
Do you want your business to benefit from a Lean-Agile framework? Contact us today and let's discuss the many ways we could help you.