Lean Six Sigma Yellow Belt
Lean Six Sigma Yellow Belt
Certification
Lean Six Sigma is a globally-recognized approach that combines Six Sigma concepts and tools to the Lean manufacturing and Lean enterprise philosophy, striving to eliminate waste of physical resources, time, effort and talent, while assuring quality in production and organisational processes. Lean Six Sigma Yellow Belt is the starting point of Six Sigma qualifications and is aimed at those who are new to the world of Six Sigma and are keen on developing basic knowledge about the methodology. This is an entry-level certification for professionals who are looking to get an overview of Six Sigma and DMAIC. The knowledge gained through this certification helps the workforce in understanding the concepts and potential of Six Sigma tools and process improvement methodologies within the enterprise.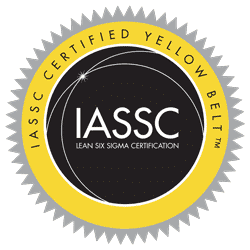 Benefits of Lean
Six Sigma Yellow Belt
There are no prerequisites required to sit for the Certified Lean Six Sigma Yellow Belt Exam
The IASSC Certified Lean Six Sigma Yellow Belt Exam™ is a 60 question, closed book, proctored exam with a 2 hour allotted time. Some forms of this exam may also include up to an additional 6 non-graded questions. The Exam contains multiple-choice and true/false questions from each section of the IASSC Lean Six Sigma Yellow Belt Body of Knowledge and is administered in more than 8,000 Testing Centers located within 165 countries throughout the world and through the IASSC Web-Based On-Demand testing system and by hundreds of IASSC Accredited Providers. 
In order to achieve the professional designation of IASSC Certified Yellow Belt (IASSC-CYB™) from the International Association for Six Sigma Certification, candidates must sit for the IASSC Certified Lean Six Sigma Yellow Belt Exam and achieve a minimum score of 70%.
Class registration includes:
Attendees must attend all 3 days of the course in order to qualify for the exam. A self-paced option is also available through VMEdu.
The Lean Six Sigma Yellow Belt certification is valid for 3 years
Upcoming Lean
Six Sigma Yellow Belt

Classes
See a full list of our upcoming classes here.
For more info about this course,
download the brochure

using this form.