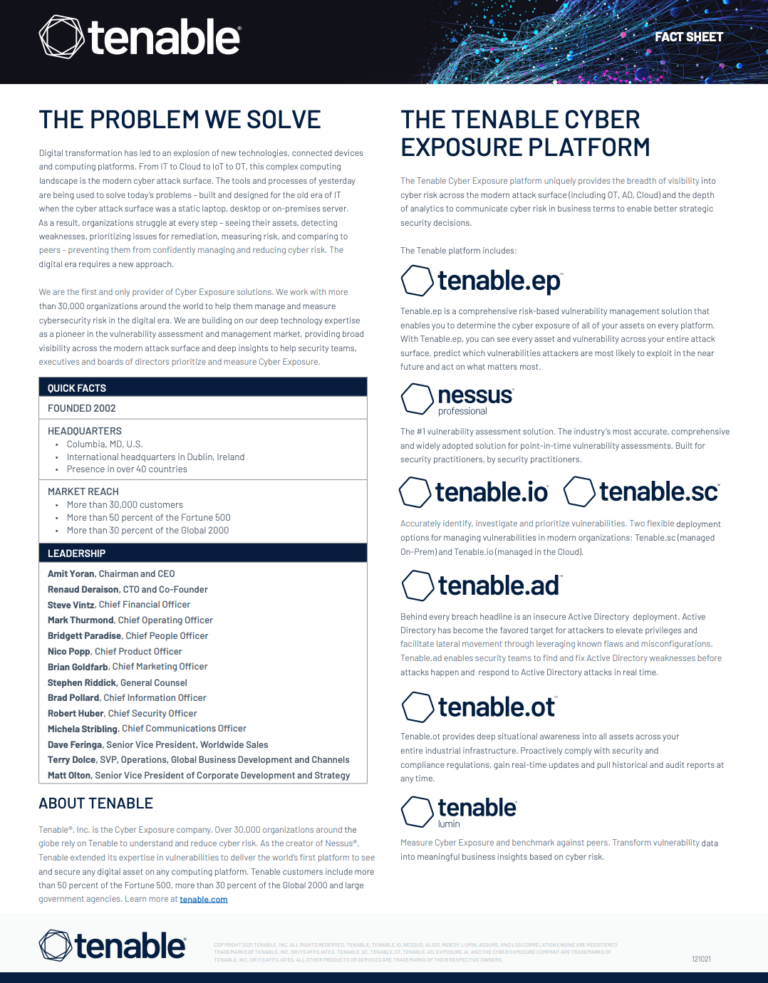 Digital transformation has led to an explosion of new technologies, connected devices and computing platforms. From IT to Cloud to IoT to OT, this complex computing landscape is the modern cyber attack surface. The tools and processes of yesterday are being used to solve today's problems – built and designed for the old era of IT when the cyber attack surface was a static laptop, desktop or on-premises server. As a result, organizations struggle at every step – seeing their assets, detecting weaknesses, prioritizing issues for remediation, measuring risk, and comparing to peers – preventing them from confidently managing and reducing cyber risk. The digital era requires a new approach.
Tenable®, Inc. is the Cyber Exposure company. Over 30,000 organizations around the globe rely on Tenable to understand and reduce cyber risk. As the creator of Nessus®, Tenable extended its expertise in vulnerabilities to deliver the world's first platform to see and secure any digital asset on any computing platform. Tenable customers include more than 50 percent of the Fortune 500, more than 30 percent of the Global 2000 and large government agencies.
Tenable's Cyber Exposure Platform gives you all the insight, research and data you need to uncover weaknesses across your entire attack surface.
For more info about this product,
download the brochure

using this form.